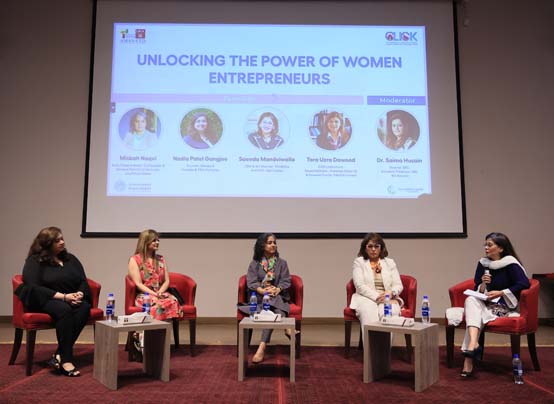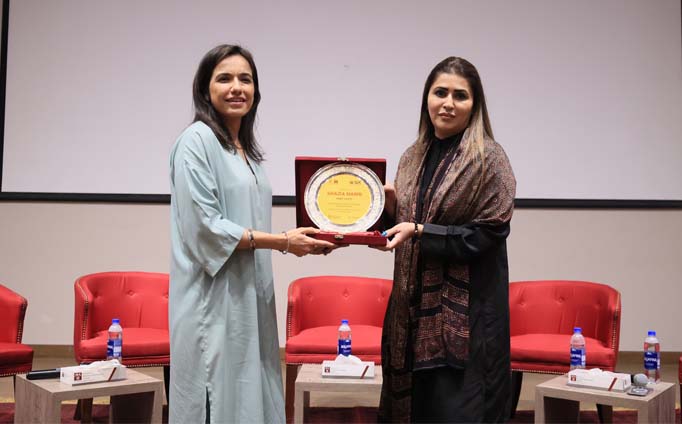 IBA organizes summit on the Power of Women Entrepreneurs
Karachi:(Staff Reporter)March 15, 2023: The Institute of Business Administration (IBA), Karachi's Aman Center for Entrepreneurial Development (CED) organized a summit on 'Unlocking The Power of Women Entrepreneurs', collaboratively with CLICK, Sindh Investment Department and IBA's Alumni Affairs Department.
In her address, the chief guest, Federal Minister for Poverty Alleviation and Social Safety, and Chairperson, Benazir Income Support Programme, ShaziaMarri, emphasised on the need to train women so they contribute to the country's economy. "More inclusive societies will emerge, if human capital is developed," said Marri.
Dignitaries from The World Bank, the Sindh Investment Department (SID), Mr. Muhammad Sohail, Alumni Representative on the IBA Board of Governors and women entrepreneurs also graced the occasion. During his opening remarks, Executive Director, IBA, Dr. S Akbar Zaidi reiterated that women play an important role in the society.
Following the chief guest's remarks, a panel discussion commenced featuring eminent women entrepreneurs: Misbah Naqvi, Early-Stage Investor, Co-Founder & General Partner at i2i Ventures, Kauffman Fellow; Nadia Patel Gangjee, Founder Sheops, Founder & CEO Femprow; SaeedaMandviwalla CEO & Art Director, Toni&Guy and CEO, Spa Ceylon; and Tara UzraDawood, CEO, LadiesFund, Board Member, Pakistan State Oil and Dawood Family Takaful Limited. The session was moderated by Dr. Saima Husain, Assistant Professor and Director, Quality Enhancement Cell, IBA.
The women entrepreneurs shared their life experiences, their struggles and challenges, and what enabled them to become changemakers.
Syed Qasim Naveed Qamar, Special Assistant to the Chief Minister on Investment and Public Private Projects, spoke about the outcome of the CLICK project which will enable the government and policy planners to take necessary actions for facilitating women in the formal economy.
Dr. LalarukhEjaz, Assistant Professor and Director, IBA-AMAN CED delivered the closing remarks, thanked SID and CLICK for their support, and distributed the mementos among the chief guest and panelists.
A total of 27 IBA female students and alumni showcased their start-ups and businesses at the event. The event was a remarkable opportunity to network with various stakeholders.